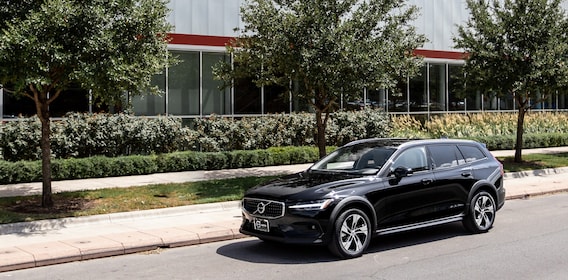 Volvo Wagons are the Best Luxury Wagons for Austin, TX Drivers
Typically when we think of buying a luxury vehicle, a wagon is not the first vehicle that comes to mind. However, Volvo is quickly changing that, and drivers around Austin, TX, are beginning to take notice. The Volvo V60 and the Volvo V90 are both quality options with great cargo capacity, robust engine performance, and a wealth of standard technology and safety features.

Volvo V60 vs. The Competition
Overview
The Volvo V60 is a two-row wagon that seats up to five people in a cabin that feels carefully hand-crafted at every corner. It's also quite practical, as both drivers and passengers have more than enough space to feel comfortable over long road trips.
Performance
Under the hood, the Volvo V60 comes standard with a 2.0-liter turbo-four engine that gets a power output of 250 horsepower and 258 pound-feet of torque. This figure easily outclasses several of its closest competitors, namely the FIAT 500L and the Volkswagen Golf SportWagen. By comparison, these two only manage to get 160 horsepower, 184 pound-feet of torque and 147 horsepower and 184 pound-feet of torque respectively.
This isn't even factoring in the available Polestar Engineered T8 model, which features a hybrid turbo and supercharged four-cylinder engine that is mated to an electric motor. Altogether, this engine produces a performance output of 415 horsepower and comes with all-wheel drive for maximum control and agility.
Simply put, the Volvo V60 is more powerful at its base level than its competition even dare upgrade to.
Features
Nestled comfortably in its center console is the Sensus infotainment system, which is controlled via a nine-inch touchscreen. You can sync your phone to access your favorite apps and personal music libraries courtesy of Apple CarPlay and Android Auto or enjoy the crisp quality of satellite radio from the ten-speaker stereo system.
When put up against the competition, the Volvo V60 offers more standard features. While satellite radio is a standard feature on the Volvo V60, it is only available as an expensive add-on for drivers of the Volkswagen Golf SportWagen. Meanwhile, keyless ignition is a standard feature on Volvo's wagon but isn't even an option for the FIAT 500L. And the upholstery? Leather on the Volvo, cloth on the competition.
Safety
When it comes to safety, there's no beating Volvo. Driver-assist features such as lane departure warning, lane keep assist, forward collision warning, and pedestrian detection are standard. Meanwhile, competitors such as the FIAT 500L come up well short, offering only a standard rearview camera and available rear parking sensors.

Volvo V90 vs. The Competition
Overview
The Volvo V90 is a midsize wagon with two-rows that seat up to five people. Its cargo capacity reaches a maximum of 54 cubic feet when leveraging the 60/40 rear seat split. Unlike its Volvo V60 cousin, the Volvo V90 does not feature an available T8 option, but it does have an available T6 engine.
Performance
Under the hood, the Volvo V90 also comes equipped with a 2.0-liter turbo-four engine, that gets the same performance numbers as the Volvo V60; 250 horsepower and 258 pound-feet of torque. And as you might surmise, this base-level performance output manages to outclass competitors such as the Audi Allroad and the Subaru Outback. The Outback does offer an engine upgrade that barely eclipses this mark at 260 horsepower, but the Volvo V90's available T6 engine quickly puts it back on top with its 316 horsepower and 295 pound-feet of torque.
Features
The Volvo V90 comes with a multitude of standard features that its competitors only offer as an expensive upgrade or not at all. These features include navigation, keyless ignition, park assist, premium leather upholstery, and a sunroof.
You will also get the Sensus infotainment system that comes with a nine-inch vertical touchscreen. It allows you to split the interface to show both cabin settings and smartphone apps such as Apple CarPlay and Android Auto for some serious multitasking capabilities.
Safety
Pilot Assist is standard on the Volvo V90 and is a semiautonomous driving system that can control steering, throttle, and brakes in short bursts. You'll also have access to advanced features such as active steering for collision prevention, adaptive headlights, and road-sign recognition.