Comparing the 2019 Volvo XC60 vs. Volvo XC90 means pitting two of the industry's most desirable SUVs head-to-head. They key differences are in power, mpg, interior space, and features. Read on to find out which of these new Volvo models is right for you.
Power and MPG Ratings
Both the 2019 Volvo XC60 and the 2019 Volvo XC90 are available with one of two engines:
2.0L Direct-Injected Turbocharged Four-Cylinder: Makes up to 250 hp and 258 lb-ft of torque.
2.0L Direct-Injected Turbocharged and Supercharged Four-Cylinder: Makes up to 316 hp and 295 lb-ft of torque.
That said, the XC60 is slightly more efficient, coming in at 21 mpg city vs. 19 mpg city with the XC90. If you'll be making frequent trips around San Antonio or Houston, you might want to think about the XC60.
2019 Volvo XC60 vs. XC90: Space and Size
| | | |
| --- | --- | --- |
| 2019 Volvo XC60 |   | 2019 Volvo XC90 |
| 184.6 inches | Length | 194.9 inches |
| 83.3 inches | Width | 84.3 inches |
| 112.8 inches | Wheelbase | 117.5 inches |
| 5 | Maximum Seating | 7 |
| 63.3 Cubic Feet | Maximum Cargo Space | 85.7 Cubic Feet |
2019 Volvo XC60 vs. XC90: Features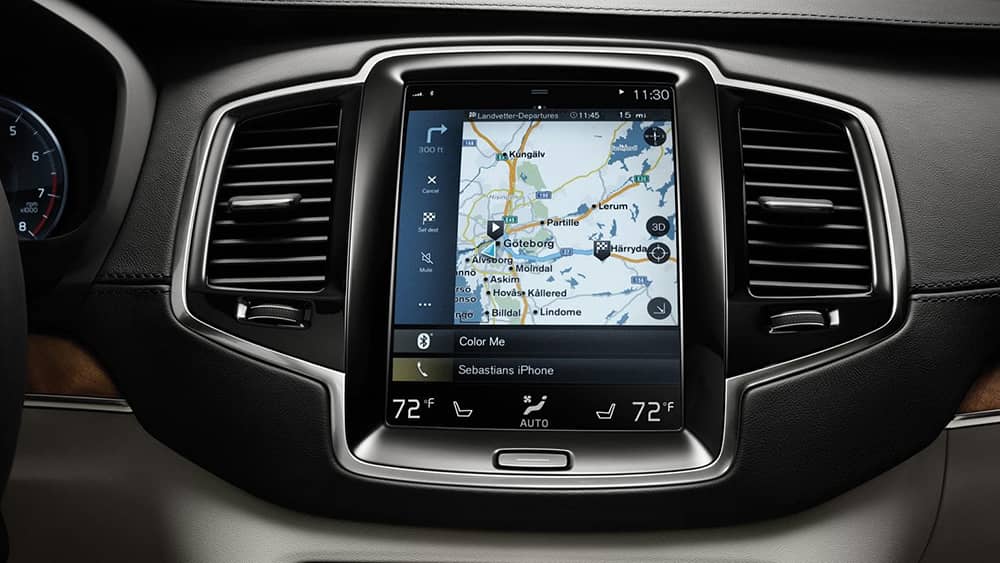 You'll find a wide array of comfort features with each vehicle, including power adjustable seating, auto-dimming mirror, heated front and rear seats, and leather upholstery. Standard technology includes a 9-inch touchscreen infotainment system, 10-speaker audio system, and Android Auto/Apple CarPlay connectivity.
However, only the XC90 provides the following features as standard:
Rear Parking Sensors
Four-Zone Climate Control
GPS Navigation
With the XC60, you'll need to pay more for options packages or higher trim levels to get those features.
Learn the Difference Between 2019 Volvo XC90 and XC60 at Volvo Cars of Austin
The choice between the 2019 Volvo XC60 and 2019 Volvo XC90 often comes down to space vs. size. The XC90 provides space for two more passengers and considerably more cargo, making it a perfect SUV for larger families. However, the XC60 is easier to park and handle thanks to tighter exterior dimensions. Both, however, are exceptional.
Whether you want to learn about 2019 XC90 trim levels or arrange an XC60 test drive, we can help. Don't hesitate to contact us today or visit our dealership in Austin.