Volvo Cars of Austin Compares the Volvo XC60 to the Mazda CX-5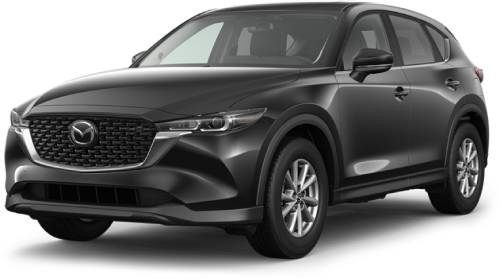 Dive in with Volvo Cars of Austin and See What Sets the Volvo XC60 Apart from the Competition
Volvo craftsmanship and luxury are incomparable. At Volvo Cars of Austin, we're proud to be a part of the longstanding Volvo tradition of excellence, with our impeccable inventory of brand-new Volvo cars and SUVs. We love telling Lakeway and Bee Cave drivers more about the vehicles in our collection, including the Volvo XC60, and we're ready to help you find the model that fits your needs today.
The Volvo XC60 is the middle child of our SUV family. Bigger than the subcompact Volvo XC40, but smaller than the three-row Volvo XC90, the XC60 is a five-passenger SUV with a lot to offer Pflugerville commuters. But we know that it's not the only compact SUV in its class that may be competing for your attention. Here, we've highlighted the winning traits of our SUV next to a competing, popular model from Mazda, to help make your next SUV shopping and decision-making process easier.
Volvo XC60 vs. Mazda CX-5
Performance. Both of these SUVs offer San Marcos drivers an opportunity to customize their ride with a choice of engine options. But not only does the Volvo XC60 have more options, with four impressive powertrains to choose from compared to two for the Mazda CX-5, but the Volvo also delivers a higher level of power and output. For example, the XC60 starts with 247 horsepower and 258 pound-feet of torque from its base engine option and tops out at a robust 415 horsepower for its range-topping model. The Mazda CX-5, on the other hand, starts with just 187 horsepower and 186 pound-feet of torque, and it tops out at 256 horsepower and 320 pound-feet of torque.
Hybrid Efficiency. All current, new Volvo XC60 models come with hybrid capability in one form or another. The two gas engines that are available here come with a mild hybrid assist for a boost in power and efficiency, and the two plug-in hybrid options offer incredible power and innovative engineering with a 32-mile electric-only driving range. Comparatively, the Mazda CX-5 doesn't offer hybrid power on any model, plug-in or otherwise.
Interior space and comfort. Transporting five people in the Volvo XC60 can be more comfortable and spacious than the Mazda CX-5 as well. Our SUV has more room to stretch out in, with extra inches of legroom in the front seat and more shoulder room side-to-side throughout the vehicle.
Standard amenities. A luxurious SUV for drivers with distinct taste, every Volvo XC60 comes standard with a high level of the features that drivers want, more so than the competing CX-5. For example, while every XC60 gets a standard panoramic sunroof, heated seats, and a wireless device charger, these options are merely optional for the CX-5, available strictly on upper-level trims.
Safety features. The level of craftsmanship and attention to detail that Volvo puts into its safety mechanisms is legendary, with drivers all around the world trusting the carmaker to give them vehicles that are equipped to keep them, and their families, safe on the road. To that end, the Volvo XC60 comes with a long list of advanced driver's aids and safety features as standard equipment, including a blind-spot monitor, forward collision mitigation, rear automatic braking, parking sensors, and more. While some of these also come standard on the Mazda CX-5, the Volvo XC60 is more comprehensively equipped.
Test Drive the Latest Volvo XC60 SUV in Austin
Discover why do many drivers here in Texas, and across the country, trust Volvo ingenuity for all of their local and long-distance rides. We invite you to visit us online and in person to learn more about the XC60 and to arrange a test drive appointment of your own soon.