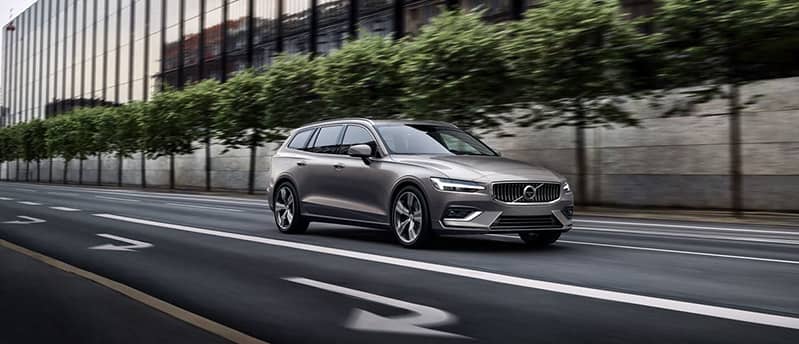 You Can Expect an Elegant And Highly Capable Vehicle With A New Volvo Wagon
There is a lot to appreciate in the wagon segment. After all, they offer you a fair amount of flexibility in how they can be used around Bee Cave TX. The new Volvo wagons and crossovers exemplifies this vehicle type while also adding the luxury that you've come to expect with our brand. If you're looking to trade-in your current vehicle for a new Volvo wagon, you've come to the right place.
New Volvo Wagons in Austin TX
There are several highly capable wagons in the new Volvo line-up, including:
Volvo V90 Cross Country - The V90 comes in four trim levels: V90 R-Design, V90 Inscription, V90 Cross Country, Ocean Race Edition
Volvo V60 Cross Country - The V60 Cross Country is available in just one trim, the Adventure T5 AWD, but it includes everything you would desire in a wagon
Volvo V60 - The V60 can be purchased in three trim levels: V60 Momentum, V60 R-Design and V60 Inscription
You will see, upon closer examination, that the Volvo wagons offer you performance and capability in your driving experience. These wagons offer seating for up to five passengers and average better than 30 MPG. The power of available engines ranges from to 250-316 horsepower and you have the option of either FWD or AWD. Features such as AWD, Hill Descent Control, and an increase in the ride height allows your wagon to be a ride anywhere vehicle. You will also find that the storage capacity of the Volvo Wagons provides the flexibility to match an active and energetic lifestyle with space for all of your gear.
When it comes to the design elements and technology of the new wagons developed by Volvo, there is much for you to appreciate. In a word, the design of these vehicles is modern. The implementation of bold, rugged lines produces vehicles that looks both elegant and muscular. The interior of the Volvo V60, V60 Cross Country and V90 Cross Country, is comprised of the finest materials that extend the elegance of the vehicle to the cabin as well.
Once inside the new Volvo V60, V60 Cross Country and V90 Cross Country wagon, you'll discover technology that is refreshing and intuitive. The centerpiece of this is a touchscreen display that eliminates most buttons and switches. The latest technology is included as is the addition of built-in connectivity. The result is an easy to control interface that provides you with the navigation and entertainment that you desire and need. These benefits allow you to personalize the driving experience for yourself and your passengers for a more enjoyable ride around Lakeway, Pflugerville and San Marcos.
If you are ready to see more and learn more about the benefits of driving a new Volvo wagon, then you have come to the right place. Our Volvo experts can help you find the Volvo wagon that best fits your needs and help you secure a finance option you're comfortable with. Feel free to contact or visit us at Volvo Cars of Austin to get started.